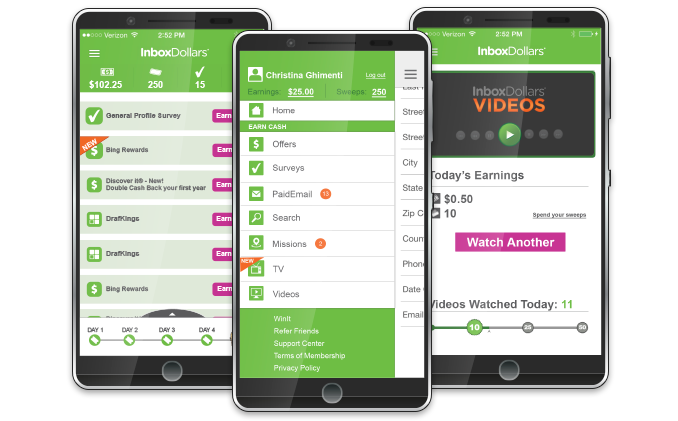 InboxDollars® App
Design / UX / UI
This app, like many, requires ongoing updates so the users have a great experience making cold hard cash. Our team completely reinvented the homepage, navigation, and the videos channel. Once we agreed on the UI, I designed the final look and feel.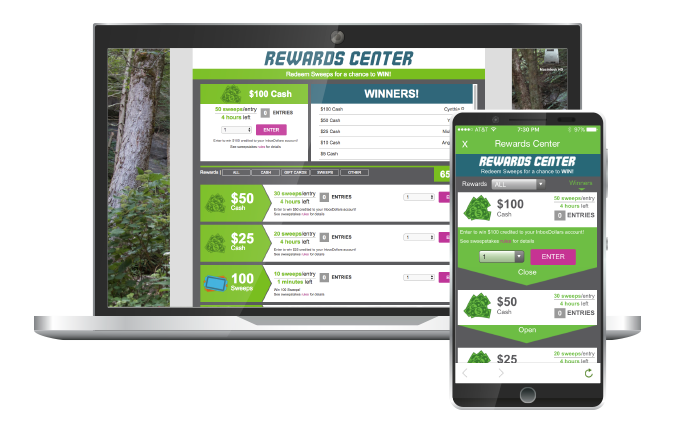 InboxDollars® Rewards Center
Design / UX / UI
Our Reward Center was originally created with the help of a third party company and we decided to bring it in house. The Product manager and I worked together to come up with a new way to present our reward offering and create a better user experience with this redesign.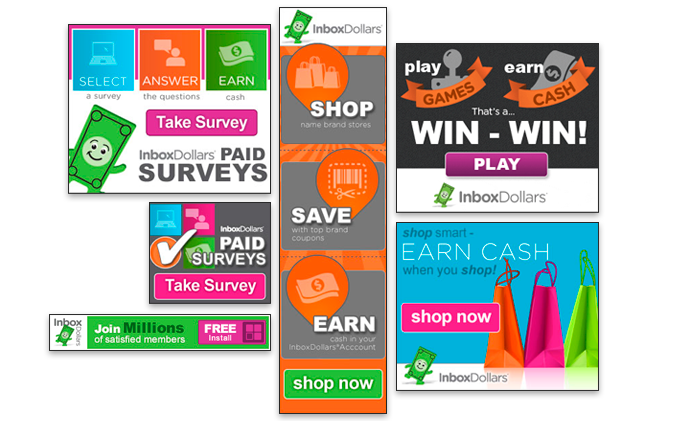 Banner Ads
Design
This is just a handful of what I've created to help the sales and acquisition team promote our top channels and grow our member base. Whether it's for desktop, mobile web, or app, I can design the right banner ad for placement on any third party site. Designing banner ads is always a challenge because you have such a small canvas to work with and so much information to present.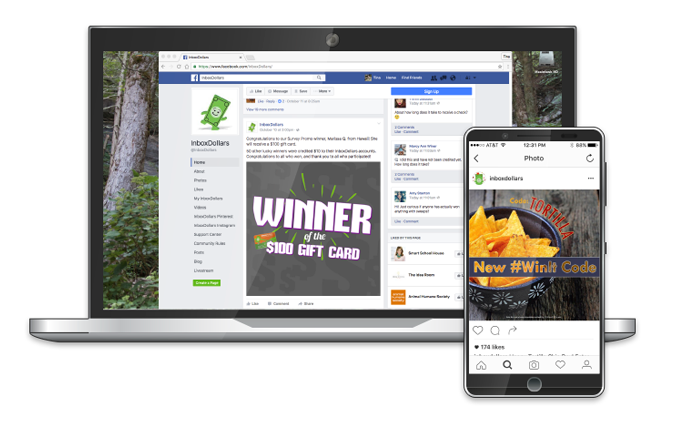 Social Design/Marketing
Design | UX
Our members want to engage with us, and we want them to keep engaging over and over and over again. I help create the cross platform promotions alongside our social media and development experts that are fun and increase awareness of InboxDollars on Facebook, Twitter and Instagram.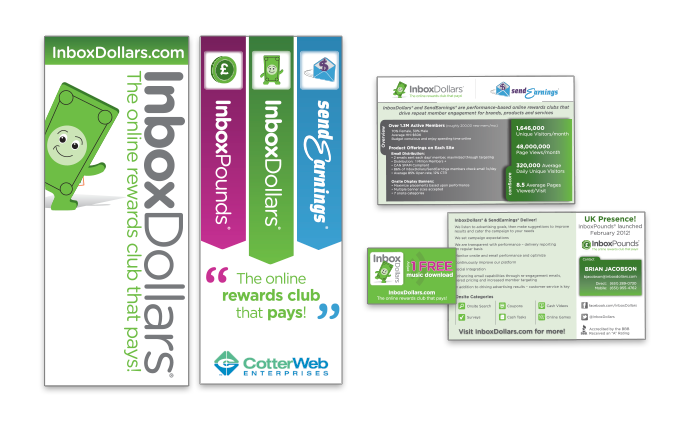 Print Collateral
Design
I help design print collateral that can make a sales booth stand apart from the rest. Our creative team delivers not only eye-catching banners and postcards, but also creates designs for clever giveaway ideas like free music download cards.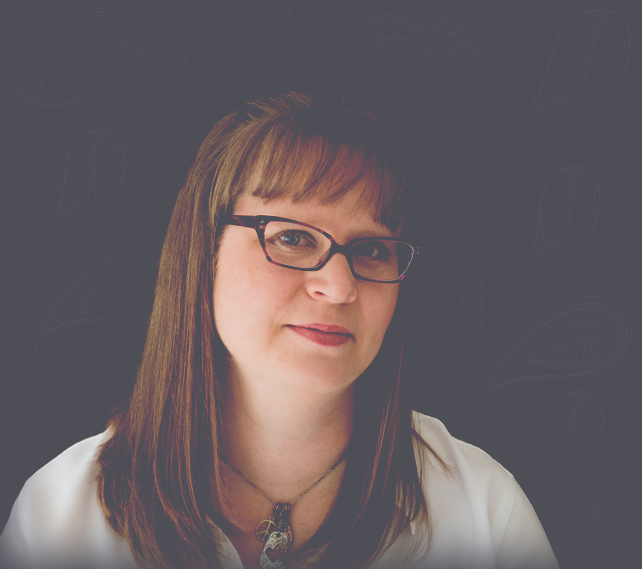 Creative. Practical. Funny.
A digital designer who cares about how things look and how they work.
I love creating a brand's perfect look, then designing the user experience and interface that helps people connect with the product or service on their terms. Before UX became it's own thing, I was already designing from the user's point of view. It's what's taught in school now, but for me, the user's perspective has always been crucial--and it's come naturally to me. Attractive is important, but it's just as important that websites or brochures do the jobs we need them to do.
For the last fifteen years, I've been an in-house Graphic Designer and Digital Designer partnering with teams of salespeople, product managers and product developers. I've designed for both new and acquired products. What excites me most about what I do is seeing a product start from an idea and come to life for a user to engage with.
InboxDollars.com, Digital Designer
2010-Present
Collaborate with product managers, developers, salespeople and member services experts to continuously improve usability and design on all InboxDollars properties.
Use UX/UI principles from the ground up to update web pages, create new products, and implement email campaigns.
Recommend design and development best practices for email, web and mobile applications.
Design banner ads, promotional emails and marketing campaign content for InboxDollars properties and advertisers.
Design all in-house marketing collateral including business cards, signs, flyers, service dedication awards.
Create images and update content on the corporate site.
Design social media graphics for Facebook, Twitter, LinkedIn, Pinterest and Google+.
Hire, assign work, prioritize work, mentor and conduct performance review for one Jr. Designer.
TwinCities.com, Web Designer/ Web Developer
2007-2010
Designed banner ads with Photoshop and Illustrator for a variety of advertisers these designs included animation with the use of Flash and Adinterax.
Designed and developed websites with HTML and CSS, with the help from Caspio some web pages where database-driven.
Designed emails for multiple advertisers to support their marketing campaigns.
Technical Experience
Proficient




Knowledgeable




Education and Training
The Art Institutes International Minnesota - Bachelor of Science Degree in Interactive Media Design
Dakota County Technical College - Graphic Design Certificate
Nielson Norrman Group - UX Certified - 2016